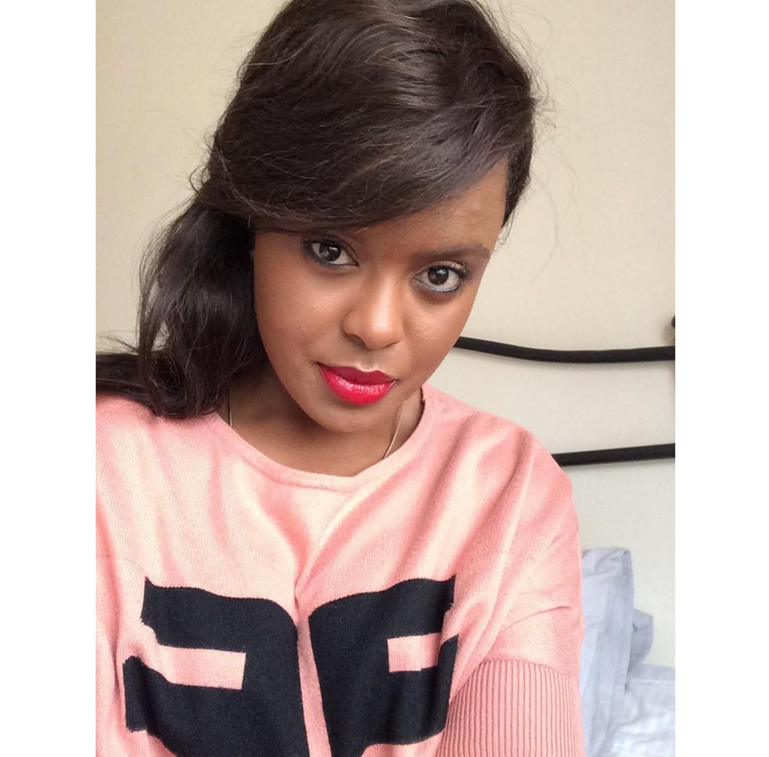 Real Name:
Judith Nyambura Mwangi
Music Genre:
Afropop
R&B

Record Label:
Ogopa Deejays
Date of birth:
30-04-1986
Age:
30
Nationality:
KENYA
Avril
Background
Break
Did you know?
She is one of the hottest female artists in the country at the moment riding high with her single 'kitu kimoja' both a recording and performing artist. Avril has come a long way in terms of venturing into music and growing as an artist. Have been raised in the town of Nakuru, Avril came to Nairobi as a student at the University of Nairobi where she studied design. In High school Avril was active in Drama and music festivals hence her interest in music during her 1st year in university back in 2006 she finally made up her mind to be a serious artist, a decision she does not regret though she was second guessing it at that time because she did not want her music and studies to clash but before this back in 2005 she had participated in the 'Jaza lorry' initiative where she had met talent manager Banda who kept telling her she had the potential to do it big in music. so finally when she decided to venture into it while in 2nd year 2007 she recorded her first single 'mama' after signing to ogopa but 'mama' was not released until 2009 when she was in 3rd year after working on it a couple of times as she continued to grow in terms of vocals. 'mama' got good airplay and it encouraged her to do more. After 'mama' she blew up in the airwaves in 2010 when she featured in AY's 'Leo remix' and Avril was ready to fly, the sky was the limit for her. She then featured in Mustapha's 'mtaani.com' and her vocals had clearly grown since 'mama' she attributes this to vocal coaching by Kenzo a fellow artist….what most people don't know is that after 'mtaani.com' Avril collaborated with Lam (A Sudanese artist) and did a song called 'changes' which was only released in Sudan, she then collaborated with one of her close friends Marya and released another hit 'Chokoza' in 2011 ….'chokoza' got massive airplay and put Avril on the map.
After 'chokoza' Avril released 'kitu kimoja' in 2012 proving that she was here to stay and nothing or no one was taking that away from her, currently riding high with this song, she clearly shows her critics that 'she got this' and a Grammy award is what she is aiming for in the long run Avril gathers a lot of inspiration from well known artists like Amani,Blu 3, Tiwa savage, Liquid deep, Alicia Keys and Beyonce.
Her favorite artists are Michael Jackson, Kenny Rodgers, Alicia keys and Beyonce, Avril grew up listening to Michael Jackson and Kenny Rodgers hence her love for them, she inherited her Dad's Michael Jackson's 'Thriller' album and Nameless's 'on fire' album is the first local album she ever bought….She writes her music based on experiences in her life and those of
close people around her.
Avril has won and been nominated for various awards in the past few years: Best female artist(teen choice awards)2011,2012,Best female artist Nzumari awards-2011,Golden mic awards-2011, Museke(online awards)2011,Nominated channel o awards (most gifted East Africa music video) 2010,Pearl of Africa music awards Uganda(best female artist)2011,Nominated Kisima awards and winner in her category (Boomba artist of the year) 2012.
Avril speaks fondly of her family: mother, father and brother who support her music career 101% and claims jokingly that her brother is the only one who sees her wrath, she was quick to tell us she has two homes her apartment here in Nairobi and her parent's house in Nakuru where she visits frequently.
Her mom has one of her songs as her call back tune to show her support for Avril's music. She is part of various events and initiatives I.e freshology parties which are mainly to promote the fresh chewing gum, Guiness football challenge (as a performing artist in their events) which is out to encourage young football talent in Kenya, Kenya land alliance (touring the country promoting peace and awareness about the dangers of post election violence) which she hopes will run until the election period or even after, Artists for peace campaign (peace initiative, uniting people through music)
On film Avril's current outlook is that the Kenyan film industry has been challenged by international and other African countries to do better, be more serious and do more productions that can relate/connect with the continent and international audience and believes the future is bright. She lets us in on how she got her role in 'Shuga' "I woke up one morning got a call from the producers and they asked me to come for a private audition, they said they needed someone who can sing and my life as an artist juggling music and school was perfect" she was excited about the offer and looked forward to it. When Shuga hit the screens her ratings continued going up and she was no longer viewed just as a singer but also as a good actress, her performance was great and she executed her role very well. We also got to see Avril's naughty side which everybody loved and guys went crazy about. She looks forward to more future roles but insists that she would like them to be similar to her role in 'shuga' whereby she is still doing something related to music, she enjoys plays and when she can she goes to heartstrings to watch them, also a huge fan of comedy Avril attends the Kenya Korna nights and recording of the Hot seat. Her favorite local programs are Changing Times, Mali, Mheshimiwa and Papa Shirandula, local movies she has watched are Shuga 2, Nairobi half life and All girls. In case you are wondering if you will ever see Avril in any film or program anytime soon well keep watching Mali and you will be pleasantly surprised as she takes up an interesting role.
Discography
Released in 0

Produced by
References
http://www.filmkenya.co.ke/film-in-kenya/avril-up-close-and-real



Singles
2009

| | |
| --- | --- |
| Title | Album |
| Mama | Non album single |

2009

| | |
| --- | --- |
| Title | Album |
| Mtaani dot com | Non album single |

2012

| | |
| --- | --- |
| Title | Album |
| Kitu Kimoja | N/A |

2013

| | |
| --- | --- |
| Title | Album |
| Hakuna Yule | N/A |

2014

| | |
| --- | --- |
| Title | Album |
| Piga Kengele | N/A |