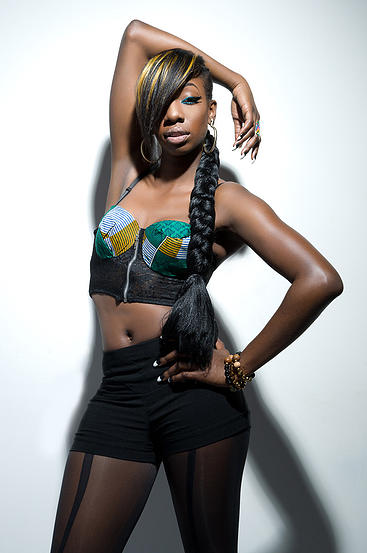 Real Name:
Titi LoKei
Music Genre:
AfroHiphop
HipHop
Rap

Record Label:
LOKEI MUSIC
Date of birth:
29-01-1988
Age:
29
Nationality:
UNITED STATES
Titi Lokei
Background
Break
Did you know?
Born on January 29 Titi Lo'Kei was destined for greatness. Out of Chicago, Illinois she has always had a unique appreciation for culture. Both of her parents were born and raised in Nigeria, Africa. Her appreciation for her Nigerian roots is evident in both her song and dance. Titilope 'LoKei' Ademokun has worked diligently since the early age of 3 to perfect her lyrical and dance skills. Throughout her youth she continued to perform for crowds in order to attain the highest level of confidence on the stage. As Titilope ' Lo'Kei ' Ademokun matured as an artist she began to study the industry from the inside out. She has worked with WGCI 107.5 as a promotions and programming intern which allowed her to network and receive advice from such artist as Keri Hilson.
She is a strong and persistent lyricist who has proven that she wants to to be a music mogul in her own right. Her music can be described as rhythmic and soulful, while bursting with R&B. Radio personalities Tommy Black and DJ Phantom, along with the Coalition of Naija Djs, Dee Money and 3k, describe her as having great potential to take over the game as long as she continues to stay humble and differentiate herself.


Lo'Kei's drive to succeed never shadows her ambition to help her community. She is a well known activist in her community and beyond and has always fought for what is right. While holding executive positions on Boards such as Delta Sigma Theta Sorority Inc. and ACA (African Cultural Association) she raised money for various social actions causes abroad. Her community involvement is a key reason that she strives to be a success in the rap industry. Titilope ' Lo'Kei ' Ademokun has had experience performing alongside some of the industries finest artist. She has opened up for headliners such as Avant, Shawnna, Michael Blackson, Wande Coal, Naeto C, Do or Die, Really Doe, Jeremih, Twister, One Chance, and more.


Titi Lo'Kei's versatile and diverse lyrical abilities make her an asset to any show. She is a creative writer and prides herself on being the author of all of her songs. She is skilled, innovative, and tasteful in all of her concepts. She has worked with some of the best producers that have brought her lyrics to life. Lo'Kei is a born leader, from forming her own Dance Troop, to recently starting a small label called N.I.N.A.A. (no is never an answer) Records and there is no limit to what she can do.


Though Titilope 'Lo'Kei' Ademokun is multifaceted she is unique due to her drive and work ethic. Her passion for music is evident, her drive is unmistakable and her work ethic is second to none. In the future you can look forward to the further development of N.I.N.A.A. Records as well as her album untitled that she plans to release by the end of this year. The sky is the limit for Titilope 'Lo'Kei' Ademokun and she is consistently reaching for the clouds.


"I am dedicated to the game and as a Female it is my duty to make a change!!"