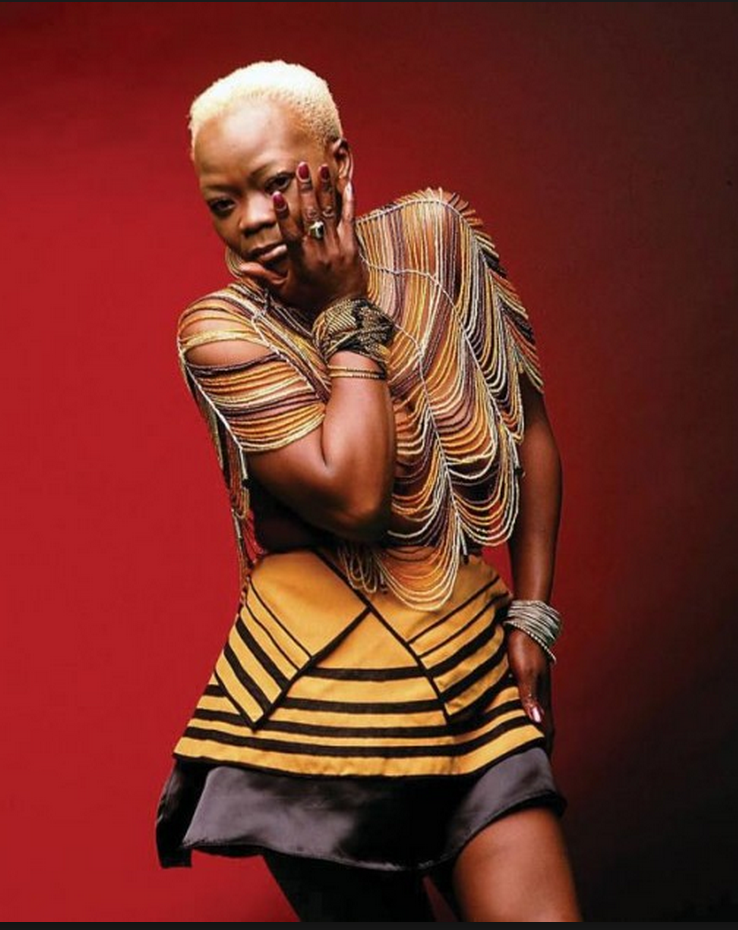 Real Name:
Brenda Nokuzola Fassie
Music Genre:
Afropop

Record Label:
CCP Records
Date of birth:
03-11-1964 to 05-09-2004
Age:
52
Nationality:
SOUTH AFRICA
Brenda Fassie
Background
Break
Did you know?
Brenda Fassie was one of South Africa's most popular vocalists, mixing African vocals with a slick international pop sound.
When Brenda Fassie was four, she started a singing group. At 14, she had moved from her hometown to Johannesburg to seek her musical fortune. She was an instant hit and quickly went on to join to other hot groups of the era: Blondie and Papa, and the Big Dudes.
She then recorded her first single, "Weekend Special," which soon became a hit in her homeland as well as in the U.K. Success proved to be a strain for Fassie, who was free with her money and liberal in her drug consumption. In 1986, she made a public admission that she was a drug addict.
In 1994, she released "Abantu Bayakhuluma," soon followed by an album titled, "Now is the Time," which featured a duet with the reknowned maestro Papa Wemba.Although aspects of Fassie's personal life continued to appear in the news, she reclaimed her status as a South African Kwaito diva with the release of "Nomaknajani," a platinum album.
Then things started to unravel for Fassie. She was involved in several highly publicized affairs with both men and women and had also begun a costly and destructive cocaine addiction. It also didn't help matters that she became notorious for missing concert dates.
The base of her excess came in 1995 when Fassie was found in a drugged haze next to the dead body of her girlfriend. The horror of the event was enough to shock her out of her spiraling decline. Her next album, Memeza, was released in 1998 and was the most focused and accomplished album she had released in nearly a decade. Memeza went on to become the best-selling album of the year in South Africa. The album's success cemented Fassie's role as a superstar of Afro-pop. Her success continued with subsequent albums and, for a time, nothing seemed impossible for the township hero.
In May of 2004, Fassie suffered a sever asthma attack that triggered cardiac arrest forcing her to be hospitalized. The physical breakdown was severe and Fassie's condition deteriorated quickly.
On May 9, 2004, Brenda Fassie passed away.
Discography
The Brenda Fassie Story

Released in 1990

Produced by SBK Records

Mama

Released in 1997

Produced by Celluloid

Umuntu Uyashintsa

Released in 1995

Produced by CCP Music

Memeza

Released in 1998

Produced by CCP Music

Nomakanjani

Released in 1999

Produced by CCP Music

Amadlozi

Released in 2000

Produced by CCP Music

Mi Nawe

Released in 2002

Produced by CCP Music

Myekeleni

Released in 2003

Produced by EMI/CCP World

Mali

Released in 2004

Produced by CCP World

Angiphum'endlini (Ma Brrr)

Released in 2006

Produced by CCP Music
References
http://content.time.com/time/arts/article/0,8599,2044674,00.html

http://www.allmusic.com/artist/brenda-fassie-mn0000514481

http://www.last.fm/music/Brenda+Fassie/+wiki



Singles
1998

| | |
| --- | --- |
| Title | Album |
| Vuli Ndlela | Memeza |

2000

| | |
| --- | --- |
| Title | Album |
| Thola Amadlozi | Amadlozi |

2000

| | |
| --- | --- |
| Title | Album |
| Nakupenda | Amadlozi |

1999

| | |
| --- | --- |
| Title | Album |
| Nomakanjani | Nomakanjani |